Remote Television Production
Live Events, Conventions, Live to Tape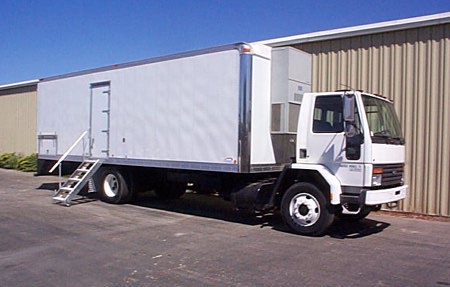 Matrix Mobile Television provides Remote Television Production Services for Parades, Sports Events, Telethons, Teleconferences, Conventions, Shows, and Instructional videos.
Our customers include Central California Television Stations, Sports event promoters, State wide Conventions and local Hotels and Convention Centers.
We provide cameras, videotape recorders, video projectors, teleprompters, lighting and sound to cover any event.
---
CAMERAS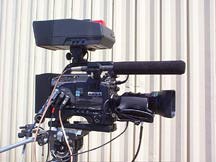 6 JVC KY-D29 Digital cameras
JVC Triax camera adapters & CCU's
Studio & ENG viewfinders
Fujinon 19x, 16x lens
Studio rear lens controls
Bogen 3069 Tripods, dollies, fluid heads
5000' high flex triax
2 Panasonic 300 CLE cameras for graphics
---
VIDEO TAPE RECORDERS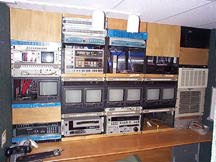 2 Beta SP Sony BVW 75 , DNF controler
1 Beta SP Sony UVW 1800
1 BUF Sport DDR / SLOMO
1 SVHS Recorder / Player
1 DVD-R Recorder / Player
1 TBC for Lap Top Computer (PPT's)
Sony Mavica still store disk camera
2 Sony Mavica disk recorders
---
AUDIO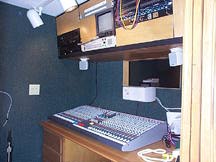 Allen & Heath GL 2200 Board, wired for stereo
32 x 4 with 6 aux buses
4 Shure SM 58 Wireless mics
4 EV RE-1 Wireless mics, HH & Lav.
6 Shure SM 58 Wired mics
3 Sennheiser HMD-25 Announcer headsets
4 Shot gun mics
Sony Mini Disk Recorder/Player
Digicart
CD Player
Cassette Recorder/Player
DBX 166XL stereo compressor / limiter
---
GRAPHICS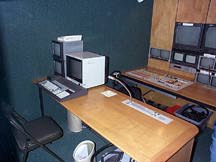 Chyron MAX! Two Channel Character Generator
compatable with Infini and Duet files
15 resident fonts fully sizable
Image capture
---
SWITCHER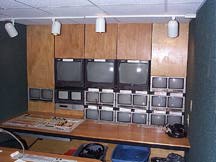 Grass Valley 1680 16 input 2 ME's plus PGM/PST
Abekas A53-D dual channel DVE with warp
Abekas A42 still store
15 x 12 Router for VCR's
Patchable Monitor Wall
---
INTERCOM, PHONE, Etc.
Clearcom Intercom system.
6 talk channels, 6 IFB channels
2 AC10K phone interface units
4 station Vega wireless intercom
4 Channel Wireless IFB system
Merlin 4 line phone system
Video projectors with screens to 9' x 12'
Camera mount teleprompter
Truck power: 60A single or 3 phase
---
Matrix Mobile Television
P.O. Box 536, 615 Tank Farm Road
San Luis Obispo, Ca. 93406
(805) 544-2445